Dress - ASOS // Belt - ASOS // Shoes - Le Bunny Bleu // Bag - Cambridge Satchel Co // Headband - Topshop // Opal Quartz Ring - Dolly Darling // Marshmallow Bangle - Handmade // Socks - Sock Dreams
This outfit is almost entirely new, but I've had the pieces a while now. I bought the dress a few weeks ago, but it's probably on sale now (I seem to always buy everything from ASOS full price & then the price halves when it goes on sale. So annoying, haha!). It has little silver threads running through it, which doesn't come across well in pictures, but looks lovely in real life.

I bought the satchel last week, in my spending spree. I did use a 30% off code for it though, or else I probably wouldn't have bothered. Shoes I got ages ago now, shipping cost (£9!) made me want to cry, but I do love them, who can resist bunnies? Anyway, the weather has been a bit nicer recently, so this outfit was perfectly light & cool for the heat.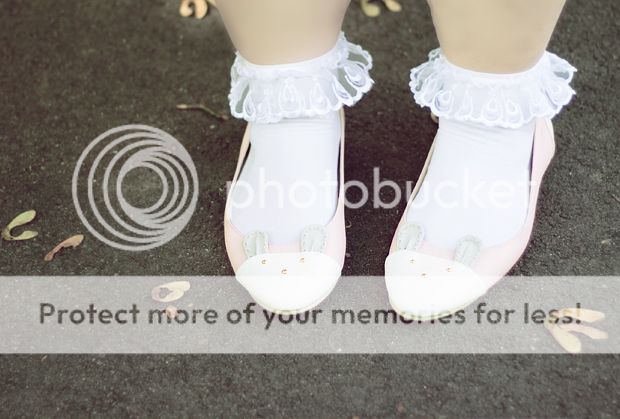 ♥ Georgina