Hello everyone! I have an outfit to show you, well rather an item of clothing, but shh! I'd been lusting after the rose coloured mac from ASOS Curve for ages, and I finally got it the other day. It's just as lovely in real life as it was in the model shots, I am so pleased with it.
I wore it out today to shop & have lunch with my family. The design is just perfect, I love the way it flares out from the hips-very flattering. I was initially worried about it fitting, as I tend to be a 30, and this is a 26, & even though all the other stuff I've had from ASOS fitted, they tended to have some stretch, whereas this didn't. I didn't really need to worry though, as it fits perfectly. Maybe a smidgen tight around the bust, but that can be a problem for me on my usual sized items. The arms are not too tight, nor too loose, which can sometimes be the case. The sleeves even have cut puffs at the top to give you nice defined & sharp shoulders. The design details, like the flap over one side of the bust, and the corset lacing in the back, all make this more interesting to the eye, which I really love.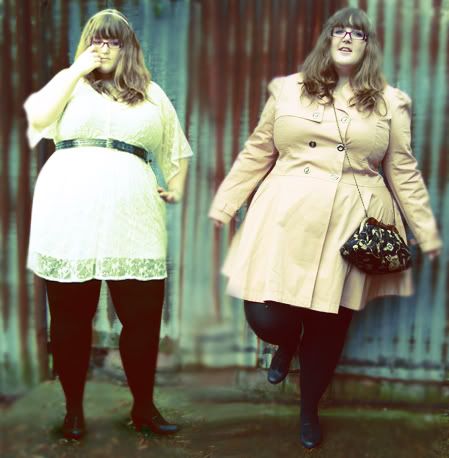 Underneath I wore my cream lace dress, & some cute accessories, finished off with some black kitten heels. Lovely!
Dress & Coat - ASOS Tights & headband - Ebay Belt - Evans Shoes - New Look Watch - Gifted Ring - BHS (bought on shopping trip today!) Bag - Leko of London
Also wanted to say a huge thank you to all my commenters, followers & readers! I really appreciate having you around & I hope you enjoy reading the blog. I am planning another giveaway for when I reach 100 followers, so keep your eyes peeled for that!